Jacque Njeri, a Kenyan multidisciplinary designer found solace in "creating things and seeing the world".
Through her most recent creations, "Maasci" and "Genesis", the University of Nairobi graduate creates images of a technologically advanced Africa.
Njeri spoke to ok africa during an interview where she said that she aims to improve the existence and perception of African women by feminizing the images and people she depicts in her works.
Jacque Njeri, a Kenyan multidisciplinary designer, during an interview on July 14, 2018.
Courtesy of Jacques Njeri
Njeri is a significant player in the non-fungible token (NFT) industry and is currently a resident on the Voice NFT hot spot website.
Her work pays homage to Kenyan heritage and ancestry while reiterating the importance of her ancestry.
The Kenyan designer presented her project, "Maasci" all over Europe before the pandemic and also organized a project called "Genesis", based on the origin of the Kikuyu people and the myths around the story of their creation.
"The essence of Afrofuturism is the advancement of technology, the advancement of science and the prospect of the future. Participating in the NFT space is an application of this message that we are trying to convey. We let's update this message," she said. told the publication.
Njeri said the NFT market presents a level playing field for African artists, as it cuts the traditional path of having their art sold through intermediaries on the global stage.
"I have just completed my NFT residency at Voice, and I hope that the experience I gained there will open up more opportunities for me to not only sell my own art, but also bring more artists to the ground," she said.
"You have to educate yourself beyond creating the work. With my background and the ground work I've done, I consciously expect the fruits of it," she added while speaking. of his experience in the industry so far.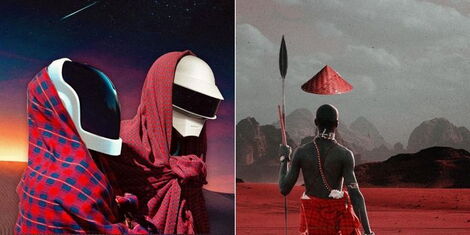 Artwork created by Jacque Njeri, a Kenyan multidisciplinary designer.
Courtesy of Jacques Njeri
The Kenyan artist noted that the industry has the necessary resources and architecture and that the emergence of various crypto companies with an interest in Africa is also favorable for artists on the continent to find new avenues to earn. the money.
"It is now our responsibility to put ourselves in the center and to take advantage of it," she said.