As protests over the death of Mahsa Amini spread across the country, artists around the world are creating art to support the movement.
Mahsa Amini, a 22-year-old woman who died in custody after vice police accused her of not wearing her headscarf properly, has sparked protests across the country.
More than 130 people were killed as protests were suppressed by authorities, according to an Oslo-based nonprofit, Human rights in Iran. Despite the bloody crackdown on protests and internet shutdowns, artists and activists around the world have emerged, giving voice to Iranian protesters.
The virality of protest art in the digital age has allowed artists to share their work and stir up emotions of defiance towards Iranian authorities. Many of them believe that art is a powerful means of expression in times of crisis.
Historically speaking, protest art has always been in physical forms, used in galleries and protest sites like paintings, slogans, banners and sculptures, but with advances in technology and the Advent of social media platforms like Facebook, Instagram and Twitter, have given rise to digitally rendered art that can be shared multiple times in large formats, increasing the impact of the given artwork.
Art transcends borders
Thousands of videos of women cutting their hair and burning their headscarves in rebellion have spread across the internet – and with them have emerged artists using their skills to broadcast the sentiments of millions of women who feel captured by draconian laws that govern their bodies.
(Image courtesy: innerjalz/Instagram)
Instagram artists, Jalz, have created works during civil movements due to the ripple effect it has on art reproduction. "There's more reposting in virtual spaces and it's making the movement last."
Jalz added that each person has the right to choose their clothes and to emphasize this freedom of choice, they created a collage from "La danse" by Henry Matisse, made in 1910. "The painting symbolizes the feeling of liberation and is the embodiment of freedom." The painting was then pasted with a photograph of Tehran's Azadi Square (Freedom Square) which was the site of the Iranian Revolution in 1979. The bold calligraphy written in Farsi is a Kurdish phrase, "Jin-Jiyan-Azadi " (women, life, freedom), a cry for justice heard in many demonstrations.
Additionally, the nudity depicted in the painting contrasts with the current scenario where women are forced to cover up. "Nudity in a painting is not common in Iranian works, so I tried to bring about this change by including this revealing work", said Jalz.
(Image courtesy: Adeena Hasan/Instagram)
Adeena Hasan, a Bangladeshi visual artist, said art has a special place in protest culture because it has the ability to seamlessly transcend language barriers and cultural differences. "Bright colors attract attention, while duller tones can highlight the seriousness of suffering by arousing compassion among the masses. Art is the protest of a thousand words without even a single needs to be pronounced. she says.
Hasan was deeply hurt by Amini's murder. "I had always been aware of the rigidity surrounding the freedom of Iranian women, but I had never heard of a case where a girl had been beaten to death because her hair was a little too visible for someone's taste. 'a. I couldn't imagine how smothered and ignored she must have felt in her final hours.
As Hasan sees art as her greatest tool which she has used before to protest any wrongdoing – be it the Taliban's shadow comeback on Afghan women or the murder of children in Ukraine – she s is always turned towards art in revolt. "After hearing the news of Mahsa Amini's death, I got back to work. I wanted his spirit to live. She would not die unheard.
Her artwork Amini with her hair flowing proudly behind her. The flowing hair is a deliberate protest against Iranian law that requires women to cover their hair. "I also purposely put vibrant hues on her black burqa. The chains were deliberately placed behind her to indicate that Iran's morality police could not kill her memory," she added. said Hasan, a student. She added that the red enveloping it is dark, but ends up blending into the golden rays at the top of the painting. "It's an ode to Iranian women protesting for their rights in the hope of better days. The jasmine flower, which symbolizes modesty, was purposely placed in her hair to show that she did not enrage anyone's modesty by letting go of her hair, contrary to what Iranian morality police claim.
She believes that art has a positive impact on society, either by consoling the oppressed or by inspiring change.
The artist who goes by the moniker, smishdesigns on Instagram, said the art helped her channel her inner angst into a singular image. "What happened in Iran is heartbreaking. Women are being murdered for exercising their free will. In such a scenario, art acts as a catalyst to challenge oppressive regimes and powerful structures by mocking those in power. power. That power belongs unequivocally to the people," she says.
(Image courtesy: smishdesigns/Instagram)
Her works were inspired by the collective act of Iranian women cutting their hair as a sign of dissent. "Cutting your hair or shaving your head goes against the decades of conditioning imposed on women to maintain a certain standard of beauty. I chose to capture this in my artwork hoping that women around the world people would identify with this powerful act of defiance against a strongly oppressive and patriarchal government," she added.
Don't miss: Meet the women who came to the fore and stood up against injustice
The virality of the visual arts
(Image courtesy: Sarah Jarrett/Instagram)
"Getting a message across quickly is paramount, especially when we see images on the internet all the time. If you are able to create an image that instantly stands out, it becomes a powerful weapon in the face of atrocity," said UK-based artist Sarah Jarrett.
Jarrett was outraged by Amini's death and wanted to support the brave women in Iran who had taken to the streets. "I was angry and sad. I wanted to spread the word about what was happening and stand up for women's rights," she says.
To emphasize the right of women to choose whether they want to wear a hijab or not, Jarrett's work uses different elements to represent the solidarity between women who defend their rights. "The tears of blood streaming down her cheek symbolize her death and the terrible sadness of a shortened young life, while the yellow rose represents universal friendship and brotherhood among women, united in their quest for freedom and peace. ." She added that black butterflies are symbols of renewal and transformation, hoping for a better future for women's rights.
Jarrett's visual art gained massive reach. "I've been inundated with messages supporting my work and people asking me to keep the dialogue going," she said. Her image became a sticker on city streets, was used on protest posters and will be used in a concert for women's rights in Sweden. "It's amazing that it snowballed so quickly. I'm proud to play a small part in this movement," she added.
Don't Miss: Women Burn Hijab, Cut Hair: Everything You Need to Know About Iran's Hijab Protest
The inspiration behind protest art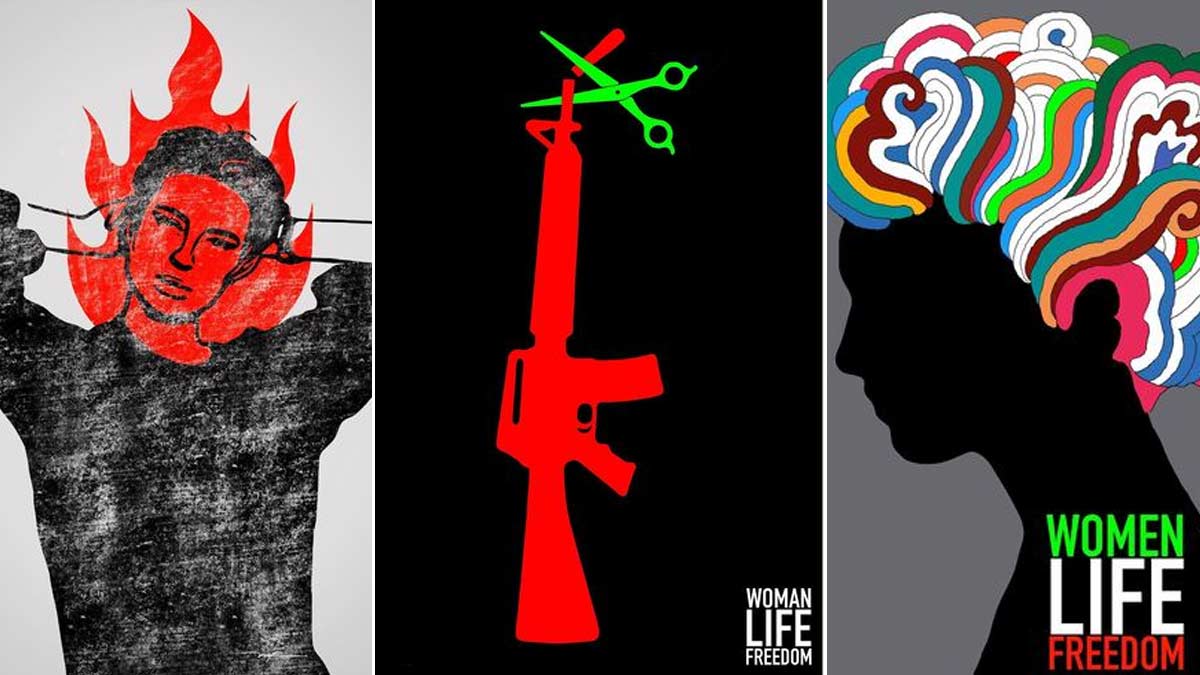 (Image courtesy: Marc Eisenman/Instagram)
Marc Eisenman, American graphic designer and illustrator, shares his childhood inspiration behind his digital art. "I was a teenager in the mid-1960s and was heavily influenced by the counterculture movement and its artistic inspirations in music, film, books, poetry, theater and other art forms. especially the use of posters to convey messages. Posters have the unique ability to project a message in an instant, while being able to hold a viewer's attention for a longer period of time." he said.
As an observer too, when he saw Picasso's Guernica in 1967 at the age of 17, he was amazed. "I entered the room that housed the painting. I couldn't move at first as I tried to figure it all out. Guernica taught me more than any article, video or photograph about the power of art. It hit me between the eyes and touched my soul. I try to remember this feeling when I produce my art. We are all moved by what we are going through – being able to share these feelings with others as an artist is an amazing and sometimes infuriating experience.
All these experiences motivated him to visually support women in Iran. He was impressed by their bravery and fearlessness. Three other events in his life also crystallized his need to voice his support, the birth of his granddaughter a few years ago – he doesn't want her to bow down to a man, US Supreme Court canceling Roe v Wade, and the artists he follows from Iran on Instagram. "Women's rights in Iran, America and everywhere are human rights. If women are not free to choose, then how can men really be free to express themselves? » he said.
He said whatever a woman wants to do, wants to achieve, wants to believe, wants to wear when it comes to her body is her choice. "Whether or not a woman wants to wear the hijab is her business. However, the religious, institutional and governmental subjugation and denigration of women must end. Women are not only mothers, daughters, sisters, but human beings who deserve all respect and dignity, and who must be honored.
Moreover, Eisenman's art symbolizes his view of the world. "I hope it resonates with the viewer and maybe opens their eyes and hearts. But it's tricky. I hate being preached to and I'd rather not preach. But I hope it helps all internal conversations in a positive way.
Also watch:
Did you like this article?