Sponsored by hexagon
By Police1 BrandFocus Staff
There is no doubt that law enforcement agencies face all kinds of challenges these days. It is also clear that modern technological solutions can help level the playing field.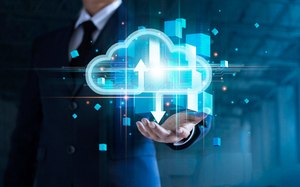 In a recent Police1 webinar, "The Changing Landscape of Law Enforcement: Empowering Your Team to Use Technology," experts Bill Campbell and Kirk Lonbom offered insights and ideas on how to achieve it. Campbell is senior vice president of global public safety for Hexagon's Security, Infrastructure and Geospatial division. Lonbom is Microsoft's director of public safety and justice strategy.
Here are some highlights of the discussion:
Times are changing in law enforcement
The nature of law enforcement has changed significantly with the advent of digital technology. Public safety agencies now have to ingest a lot of different data at once, including video, text, images, and audio. All of this data must be integrated by a flexible IT platform that provides a user-friendly workflow while adhering to a series of state and federal standards.
These factors combined are transforming the way law enforcement agencies operate. If done well, this transformation makes these agencies more efficient and able to work with other public safety agencies. According to Hexagon's Bill Campbell, when command personnel and others in leadership positions can view information and reports more quickly, it increases situational awareness across the agency.
To address the need for more transparent, consistent, shareable and actionable information, Hexagon selected Microsoft's Azure cloud-based data management platform to support its public safety cloud products.
The challenges of transformation and how to overcome them
The benefits of going digital come with challenges. One is the need for agencies to fully train their staff to transition to new digital systems so they can use them effectively and confidently.
"As we implement new technologies, we can't assume three days of training will be enough," Microsoft's Kirk Lonbom said.
Instead, he advises agencies to start the change management discussion early in the transition, well before implementing any technology.
"By ensuring that staff are fully trained and accept new technology, we are going to do much better," he said.
Introducing new technologies into law enforcement offers the opportunity to rebuild trust with the public, Lonbom added, but only if this implementation is done in a transparent and open manner.
"Technology plays a major role in this transparency – for example, our ability to use this information and share it appropriately with the public," he said.
Using high-quality apps designed for law enforcement is critical to successful transformations, adds Campbell.
"The app has to work and the support has to work," he said. "Otherwise, the technology gets a bad reputation, it's hard to upgrade, and organizations avoid it."
Why Hexagon chose Microsoft Azure
The need to provide law enforcement with reliable applications that work has prompted Hexagon to host its cloud-based products/services on Microsoft Azure.
"Microsoft is a global leader in cloud operations and deploying a public safety system in a cloud environment," Campbell said, particularly when it comes to compliance with a variety of local, state and federal government requirements. "Their understanding of cybersecurity as it relates to setting up applications in the cloud is absolutely top notch."
Conversely, Microsoft's approach is to work with companies like Hexagon who know the ins and outs of the technology needed to support the mission of their law enforcement customers and provide stability and essential cybersecurity.
"Our mission is to provide the operating platforms that keep things safe, reliable and resilient," Lonbom said.
Maintaining order during unstable times
The technology solutions used by law enforcement today must be robust enough to operate in a divided society plagued by civil unrest. Both Hexagon and Microsoft believe that cloud-enabled digital solutions can help law enforcement do their jobs more effectively, efficiently, and securely in today's challenging times.
The in-depth cybersecurity offered by large cloud-based companies such as Hexagon and Microsoft is greater than what individual police departments can do for themselves, thanks to economies of scale. Instead of building IT infrastructure from scratch, a cloud-based business can focus on providing needed services and support.
Additionally, cloud-based law enforcement solutions are unaffected by global supply chain issues, as their provisioning and support is handled by third parties, so agencies do not have to not have to wait for new hardware to upgrade their capabilities.
Prepare for future threats
Both speakers noted that technology is only part of the solution. Future threats like the next pandemic or the next war must be anticipated through proactive planning and preparation, advises Campbell. A trusted partner can do the heavy lifting for your agency when it comes to anticipating new challenges.
"The only way law enforcement and public safety in general will stay on top of this is to work with companies that can at least tell you what 'the art of the possible' is," Lonbom said. . "We need to be proactive there and not wait until it's time to share information to put governance in place. Our professionals need to consider who should I share information with and how can I get these agreements in advance? »
Understanding the threats, the severity of those threats and where they may come from is absolutely imperative, adds Campbell.
"As technology evolves, so do the threats, and people in your organization need to understand that education is absolutely imperative," he said. "Then the business case can be made to upgrade the technology, and to be prepared and resilient to the unfortunate events that are going to happen."
To help your agency meet current and future challenges facing law enforcement, look for a vendor that has invested in understanding public safety rules and regulations. Look for a system that can grow, change, and adapt so that it doesn't become a legacy system as soon as it's installed. An experienced and trusted technology partner like Hexagon can provide essential expertise and support to help your agency establish a solid foundation of digital capabilities and provide essential operational support.
For more information, visit Hexagon Public Security on line.
Then watch: Webinar: The Changing Landscape of Law Enforcement: Empowering Your Team to Use Technology